Are you considering investing in real estate? Interested in building your portfolio? Meridian Pacific Properties is a full-service real estate company specializing in high-yield residential investments. We guide new and experienced investors to financial success, without the hassle. These days, you can lock in a low rate and potentially bring in extra income. Why wait? If you're not sure where to begin our leadership team is here to help guide your investment journey.
Meridian Pacific Properties develops, constructs, leases, manages and sells Class A, single-family investment properties and portfolios to investors seeking positive cash flow investment opportunities. We streamlined our vertical for maximum efficiency.
Why Is Real Estate a Good Investment Choice for Me?
If you are new to investing, it is best to have a clear picture of your finances, long-term goals, and what interests you most. Often, the Stock Market is the first thing to come to mind for investing. But Real Estate still stands as the number one investment you can make today. In a study conducted by Gallup earlier this year, 35 percent of Americans said that Real Estate was the best long-term investment.
An investment property has much room for cash flow. Though it may be more expensive upfront than with stock investment, the long-term return of investment (ROI) can mean more cash in your pocket and a secure financial future. Forbes Real Estate Council describes Real Estate Investment as:
"Low-risk, high-return investment when held long-term. Real estate hedges against inflation but has a high entry cost and can't be sold quickly."

"…it's a useful portfolio diversification tool. Real estate offers a slow, predictable rate of return over the long run and can be a great way to build long-term wealth."
Meridian is leading the way in built-to-rent properties. We provide premium turnkey real estate to investors seeking high-quality, cash-flowing investment properties. Want to learn more? Watch this video on why real estate is one of the most stable investments and can generate the highest overall returns. We are so confident in our strategy that we guarantee rent for the first year of every property you buy with Meridian. See the comparison charts below.
Not sure where to begin? Give the office a call. Our leadership team will help explore your options.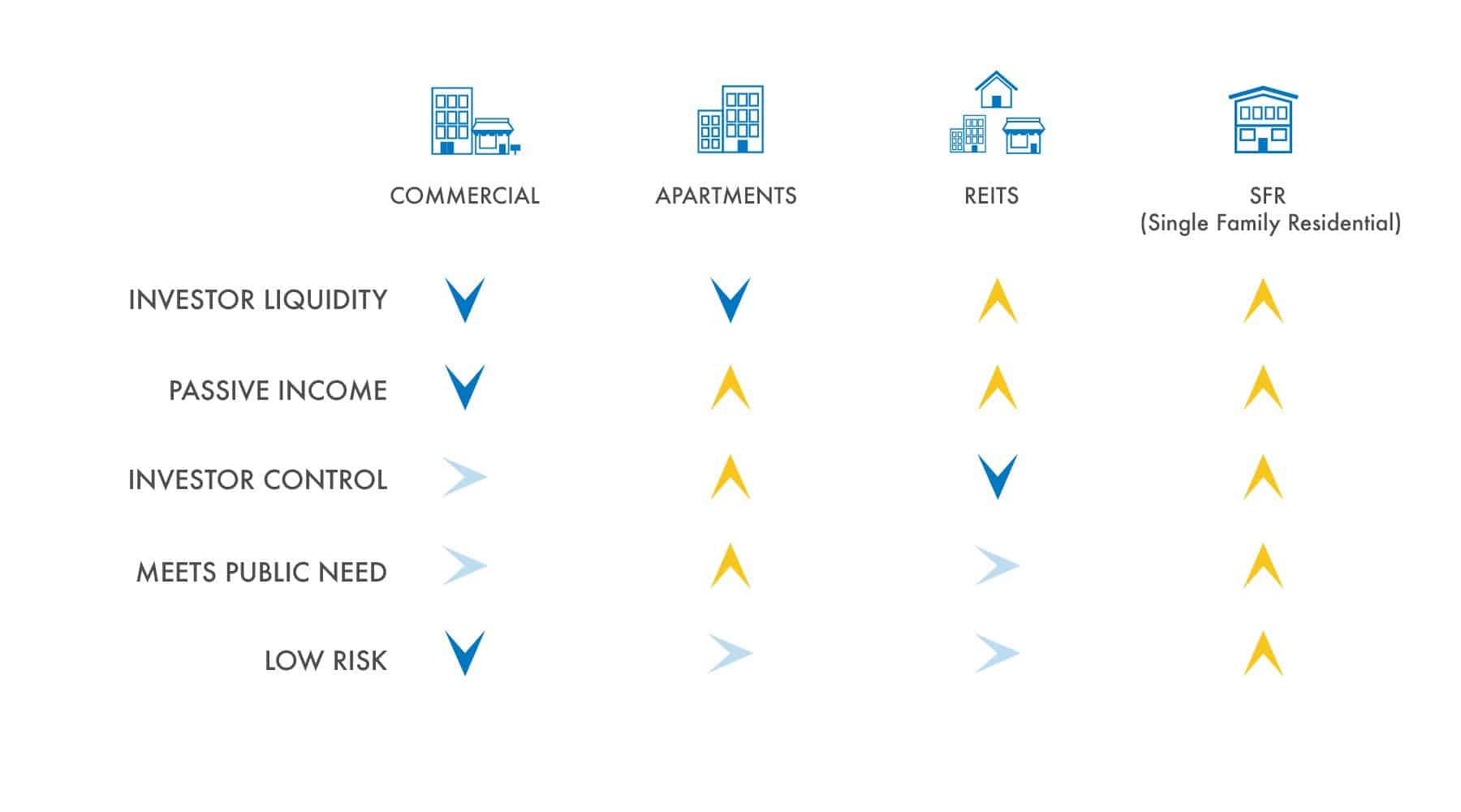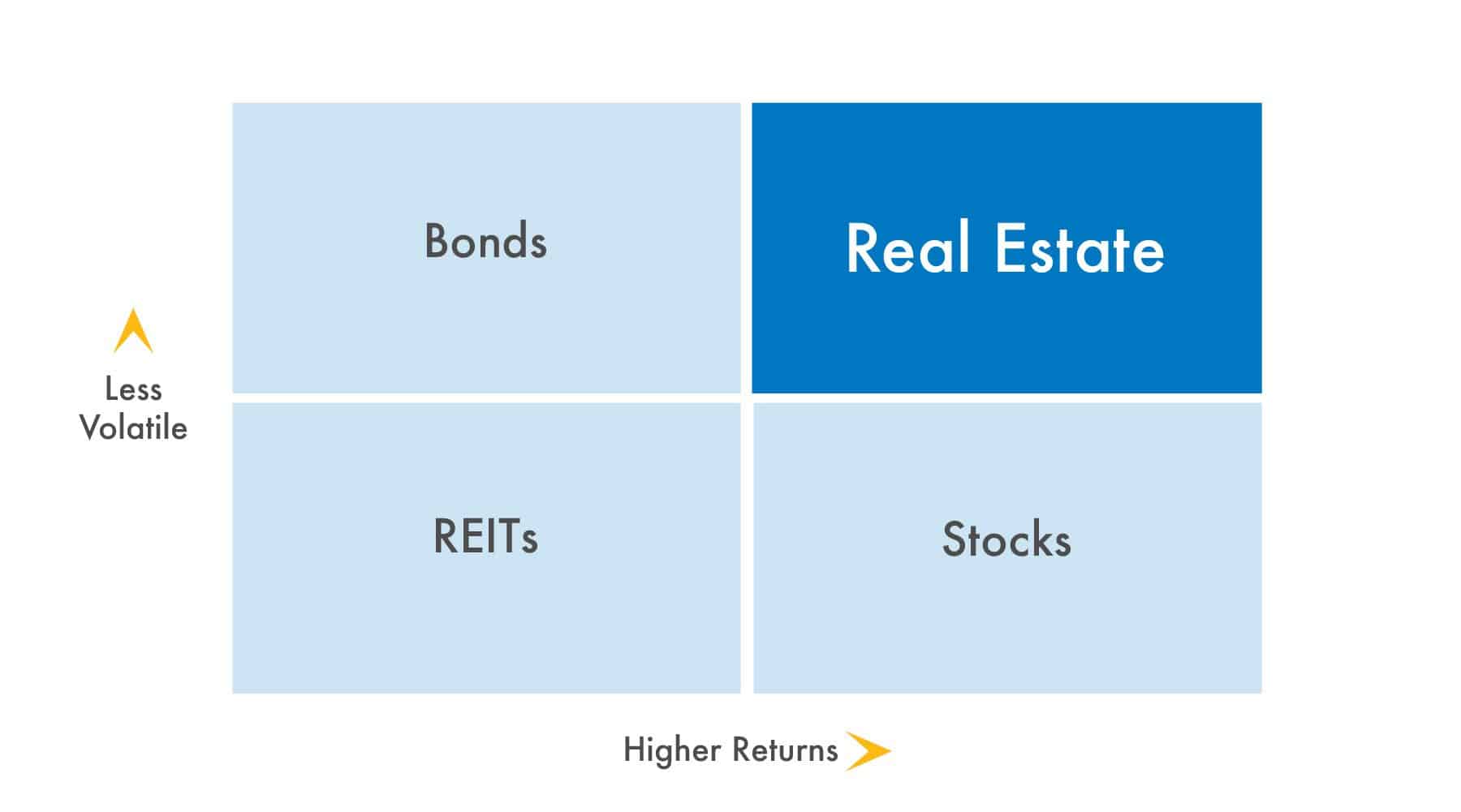 Why is 2020 a Good Year to Invest in Real Estate?
If you've been following Real Estate trends at all this year, you'll be familiar with the terms "low inventory" and "high demand". The limited supply of available homes has been a commonality in the industry for the last few years. But now more than ever, buyer demand is at a high. Bankrate discusses: 'historic low rates make purchasing very appealing. Low rates give more buying power for consumers and additional properties become more affordable. On the other hand, sellers can raise their asking price to capitalize on the value these low rates can bring.'
Certain indicators can assure your decision to invest specifically in real estate. The stock market, for instance, has a higher volatile risk factor. We've recently seen the ups and downs that can happen within days or even hours. The Real Estate market has a stronger resilience and home prices tend to stay more consistent. Despite the effects of a pandemic or other unforeseen economic factors, Real Estate holds less risk in the long run. Owning property can be the core of building a passive income.
As a full-service real estate company, Meridian's objective is to provide our investors with products and advisory services that generate excellent returns while mitigating the common risks and challenges in real estate. Our turnkey solution has been developed to bring investors diversification and stability to their investment portfolios. With years of market expertise, a vertically integrated platform, and a professional service team we are an able source, stabilized, and manage investments for our clients that produce high yields without sacrificing quality.
If you are considering adding to your investment portfolio, it is in your best interest to work with industry professionals to help guide you to success. Our knowledge and expertise will help you make smarter decisions in the long-term commitment of investing. Reach out to us today for more information on available properties.