Many of our investors have asked us about the property reappraisal notices they've been receiving for properties they own in Shelby County, TN, and what implications will come with their revaluations. Being that Tennessee Law requires properties to be reassessed in Shelby County every four years, most properties are being valued at approximately 20% – 30% more than what they were in 2017.
However, while this increase in value is significant, Shelby County assessor Melvin Burgess assures Commercial Appeal that the impact it has on your property taxes may be minimal.
"At the end of the day, we work for you all and I want to make sure that anything that comes out of here is right and it's accurate," said County Assessor Melvin Burgess. "I want to make sure that we reach out to any homeowners or business owners having issues with their reappraisals."
As of March 2021, homeowners may have started to receive their reappraisals in the mail. Will your taxes increase if your reappraisal value increased? It all depends on the "truth-in-taxation" law which local taxing units must follow. Even after a reappraisal, the total amount of taxes that is collected in a specific county must remain the same regardless of value increase. Once the process is done, a new rate is set and homeowners are notified of any changes.
Read the full Commercial Appeal article here to learn more.
Javier Bailey, the chief administrative officer with the Shelby County Assessor's Office, also asserts in this interview with WMC 5 Action News that "just because the appraisal of your home jumped this year, doesn't necessarily mean your property taxes will increase."
Additionally, this has been an extraordinary period of appreciation in the Memphis market, as evidenced by the graph below from Q4 2019 – Q4 2020. While these rates of appreciation have deviated from historical norms, we expect the market to correct back to those norms. The higher appreciation in Memphis and Tertiary markets also supports the belief that people are moving out of big cities into these secondary markets.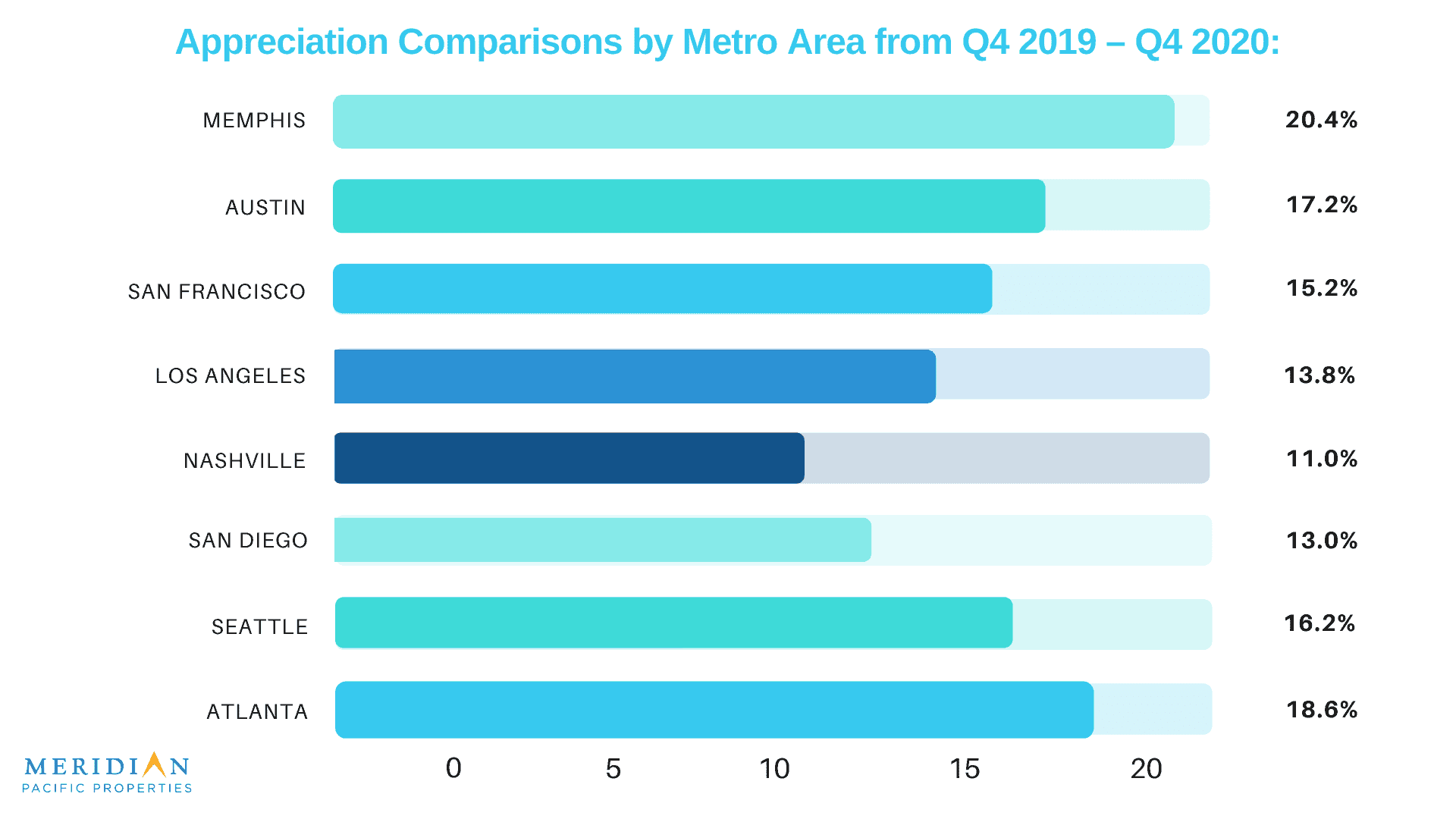 Want to know more about the local market or have questions? Reach out to us and we'd be happy to discuss further.